Hawaii Zenyo JuJutsu Kai
Mizu Jitsu

(Under Water Safety & Self-Defense)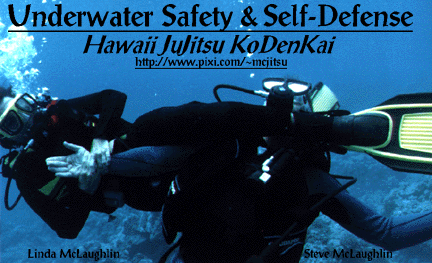 ---
This Under Water Safety & Self Defense Course has been developed at the suggestions of such diverse organizations as NASA (as part of a request for a "Weightless Environment Combat Course"), YWCA (additional training for Lifeguards and pool personnel) and professional Dive Shops (for Rescue Divers, Dive Masters, and Dive Instructors). Every year there are drownings and severe injuries due to panic or anger in the water. There are several courses taught to Lifeguards, and Scuba instructors through the YMCA, Red Cross, PADI, and other fine organizations, such as the Advanced Lifeguard and the PADI Rescue Diver training, but these only cover the very basics. This course takes that training several steps further, in an organized, safe, and well documented manner.
The instructor and author of this course is Prof. Steve McLaughlin, 8th Degree Black Belt in DanZan Ryu JuJitsu (and holds the rank of Black Belt in several other martial arts) a professional scuba diver and a PADI certified Rescue Diver. He is the owner and presiding instructor of the Hawaii Zenyo Jujutsu Kai in Honolulu, Hawaii, and teaches this course at Dive Centers, Dive Instructors and to many Dive and Water Safety professionals in Hawaii. This course has been taught in Nevada, California and Hawaii to the YMCAs / YWCAs, and Red Cross instructors for over 10 years. It is now available to all certified Lifeguards, Scuba Dive Instructors, and selected professionals in the Dive and Water Safety Industry.
Originally a martial arts course, it was taught only in selected martial arts schools and at martial arts national conventions for 12 years before being made available to the professional public. It has been in development for over 40 years by Sensei McLaughlin with help from Professor Herb LaGue (innovator of a 'Free Fall' weightless environment course originally requested by NASA). We have also relied heavily on the experience of PADI Instructors, the DAN database, and Military Dive instructors for the water safety and diving danger aspects of the course.

---


Every time we mention our Under Water Self-Defense course to dive shops and lifeguards we get the same initial reaction. WHAT? Why would we want to learn to fight underwater? Who is going to attack you? For what reason? By and large they are correct. The Safety Record for Diving is very high, with one of the lowest accident or injury rate of any sport or recreational activity, level to that of bowling! However there are professional people who are killed or who have sustained serious injuries every year by someone else in the water - by accident or purposefully done.

Let us state emphatically at this time, that NONE of these techniques are soley designed to severely injure, or maim your opponent, although they are certainly capable. Their primary use is the contrary, they are designed to help keep your opponent alive and yourself as well, AND to do it with the least amount of injury or damage to both when possible. The targeted objective here is Safety. Safety for you, Safety for your 'customer', and Safety for your business.
To reiterate; these techniques can be destructive. Many times people in fighting situations get hurt more by ACCIDENT rather than by design! Knowing these more dangerous moves will help people not only learn better responses to actual attacks but will learn what NOT TO DO, so that techniques like these are not used out of their proper safety context. People in extreme situations - real or perceived - often over react, even trained instructors. This is natural, but not always desired.
---
After countless interviews with professional lifeguards, scuba instructors and military underwater instructors concerning their most extreme moments with an opponent in or under the water, it became obvious that many of them simply did not have enough emergency training for panicked or uncontrollable divers.
It is highly unlikely you will encounter a "James Bond" situation of underwater combat. This advanced training is to ensure you can take care of yourself and your opponent in situations that are not covered in normal courses where you are basically taught to "duck, tuck and push". Especially when we study deep water - scuba arts.
This course is short and simple. It covers one evening on the mat in the martial arts school, and one evening in a swimming pool (or shallow open water). The advanced course continues on in deeper water in scuba gear and covers situations involving knives and spear guns. These courses can save dive shops, swimming pools and other businesses and agencies a great deal of court time, lawsuits and money if their people could be more properly trained and were able to maintain a simple ongoing training course requirement. This on going training is no different than any of the other refresher courses they are required to keep up with (ie. First Aid), and can be considered just as valuable.
---

Mizu Jitsu
The First Course deals specifically with Surface Water Actions, and can be used by professional people working in water safety related occupations - Life Guards, Scuba Instructors, and Dive Masters, and Swimming Instructors.

The Second Course deals specifically with Deep Water Actions and continues into advanced restraining techniques and options for situations in Scuba Gear with knives and spear guns.
These courses are specifically based on DanZan Ryu JuJitsu, because of it's superior and greatly adaptable techniques of self-protection and self-defense, in or out of the water or in 'free fall' and 'lightless' (total darkness) environments.
There is a difference between Self-Protection (water safety for example) and Self-Defense (avoiding or neutralizing an attack) and we will cover both aspects in each course. Each course is designed to manipulate your advantages and disadvantages in the water medium.
These techniques are Defensive in nature. They are designed to first; save and protect your own life, then to go on to protect and save someone else's life. Each art is also designed to prevent you from being attacked or hurt, and be able to do so without having to necessarily attack or hurt your adversary.
---
The courses of MIZU JITSU UNDERWATER SAFETY & SELF-DEFENSE
may not be reproduced in any media or taught without the
express permission of Prof. Steve McLaughlin or the Hawaii Zenyo Jujutsu Kai.
---
The Basic Curriculum requires the following...
1. Know how to swim, float, tread water and snorkel. Students should have advanced swimming skills in the current "Drown Proofing" techniques (treading water and floating), and is familiar with water safety equipment (flotation devices, ropes, etc.).
2. You must have taken and passed a water safety course (YMCA etc.) You must be Dive Certified for the Scuba portion of the second course.
3. Be a full time student of DanZan Ryu JuJitsu, or have a CERTIFIED occupation as a Life Guard, Scuba Instructor, Dive Master, or by special permission you may take the course if you are Rescue Diver Certified.
4. A working knowledge of Yawara, Nage No Kata, and Shime No Kata (usually Green Belt level of knowledge.)
(Waived if employed in one of the professions above and student has taken special 'pre-mat' classes).
5. A current First Aid Card with CPR rating.
6. Each student must successfully pass the Under Water "Mat Class" before taking or passing the UnderWater Surface or Deep Water courses.
---
The Course - Strategy
In the water these factors are the most important:
A. Drag Factor: There is no such thing as a "surprise move. Use this effect to "wear" out your opponent down. Keep your distance and make them come to you.
B. No Base: You must use moves that require no stances. Use your opponents body or some other object to use as a base, when possible.
C: Weight: There is little weight in water, and light weight can be used to advantage. All holds must use joint locks, pressure or nerve points.
D: Panic Factor: An adversary will be much stronger and faster, and have less good reasoning.
E: Kuzushi: The concept of "off balancing" your adversary with either physically or mentally, with the techniques of distraction, or motion.
---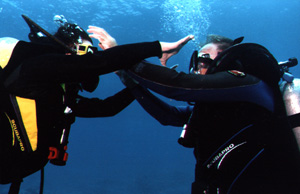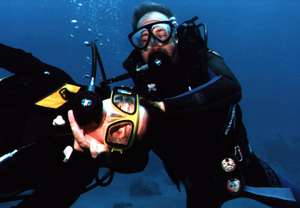 ---
The Course - Tactics
(This part of the course is designed for martial artists with little or no scuba or water training.
Certified divers and instructors will review this section and proceed with the
'mat class' of actual hands on techniques and theories and proceed to the water class.)
Your Number 1 opponent is the WATER.
Your second opponent is ACTING TOO QUICKLY.
Your third opponent is your ANTAGONIST
.
KEEP YOURSELF ALIVE - FIRST.
Then do what you can to help or defeat your adversary.
KEEP CALM, be DELIBERATE in your moves.
1. NEVER GO ALONE - EVER. Call for backup, hit the alarm, use the buddy system and outnumber any opponent. Don't forget to take the safety equipment - YOU may need it.
2. Be on the DEFENSIVE, be on the lookout for ANYTHING, people, fish, waves, undertow, coral reef, broken glass, boats - anything.
3. STAY OUT OF REACH, and stay to one side. Make them come to you, even if it appears they are in a REAL emergency - if you can. It will be explained in depth why this is done during class.
4. Get BEHIND and STAY behind your opponent. Do not go around an opponent in the water if you can help it. Go under them and control their legs to get behind them, or Go over them .
5. The most efficient way to get 'KUZUSHI' on your opponent is to turn them FACE UP in the water - any way you can. This can be accented by removing their face mask if they have one. How to do this correctly will be covered extensively. This WORKS, and is useful for rescue breathing situations.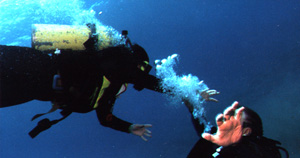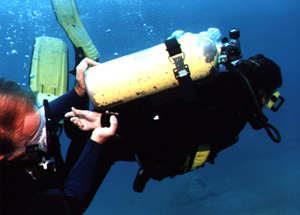 Additional Techniques
(These are specialty techniques for trained martial artists, and are taught
to professionally trained divers and lifeguards only after completing the 'mat class'.)
1. Tai Sabaki - Turning, Pivoting, in Water, Directional Hip Rotations.
2. Kuzushi & Breathing Techniques (Nose breathing)
3. Uke Te - Parry's, Arm Sweeps, Leg Pushes, and Ducking.
4. Yawara - Wrist, Arm and Leg Holds.
5. Hazushi - Wrist, Arm and Leg Circular Escapes, and Countering Techniques.
6. Tai Hazushi - Body Escapes
a. Front Bear Hug
b. Rear Bear Hug
c. Kesa Hold
7. Osaegami. - Head control.
8. Body Locks, Side Controlling techiniques, and Nerve Point Escapes
9. Jime Hazushi - Choke Escapes Front and Rear.
10. Jime / Kappo - Choking and Resuscitation
(taught only after passing the Kappo and physiology part of the 'mat class')
a. Hadaka Jime A, B, C.
b. Do Jime, Momo Jime
11. Kuzushi - Proper Loading and Unloading for Firemans Lift & Carry and Saddleback Carry
12. Atemi / Kyusho - Nerve and Pressure Points. Why strikes don't work and what else does.
---
Future Additional Courses taught in Advanced Under Water Self-Defense
Night Water Self-Defense Course, Underwater Weapons Course (knife and spear gun),
and extensive Introductions to Weightless, Darkness and Free Fall Combat Training.
---
Please send all inquiries and brochure requests to:
Hawaii Zenyo Jujutsu Kai
ATT: Under Water Studies (Mizu Jitsu)
2843 Park St., #A
Honolulu, Hawaii - 96817
For more information Email us at HZJK MizuJitsu
---
---