Welcome to the
Hawaii Zenyo Jujutsu Kai
(originally "The Hawaii Jujitsu Kodenkai")
The First Martial Arts Academy on the Internet - 1994! – Ever !
Providing Professional Instruction in DanZan Ryu Jujitsu (DZR founded 1924)
Practical Self-Defense & Combat Training for all Men and Women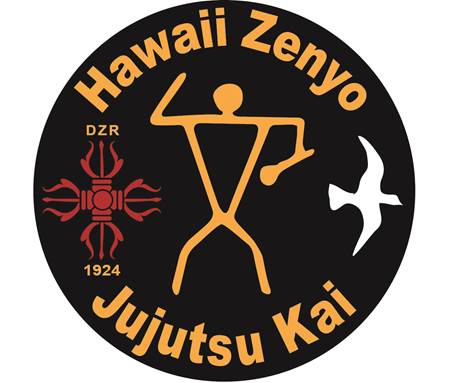 Note from the Professors: We do not endorse nor encourage cage fighting.
The classic systems of martial arts are more than enough combat training for real life
and have been for a thousand years. They are not meant for entertainment.
The classic arts are fascinating and vast in scope - encompassing many aspects;
such as; meditation, massage, metaphysics, weapons – old and new, literary arts,
military and police arts, underwater combat, physical health culture, healing arts,
fine art, languages, proper character development, spiritual journeys and much more.

If you are going to spend all that time (and money) practicing why not learn it all ?
---
Classes are held at the following location:
HZJK Dojo - Daijingu Temple of Hawaii

61 Puiwa Rd., Nu'uanu Valley, Honolulu, Hawaii.

Mondays - Wednesdays – 7:30 – 9:00 pm.
Special Monthly Healing & Massage Classes – open to the public
1-808-595-7175
---
The HZJK features the following Courses

Self-Defense

Restorative Massage


Kappo/Katsu (Martial Healing Arts)

Atemi (Martial Strikes)


Security Guard Courses

Hotel Security Courses


Hospital Patient Handling Courses

Police Courses


Mizu Jitsu (Under Water JuJitsu)

Classic and Modern Weapons


Martial Arts Literature, Film, and Choreography Reviews


Hula & Hawaiian Martial Arts

Go & Konane (Martial Games)
We also offer Hawaii's #1
Executive "Common-Sense Self-Defense" Courses
Assault Prevention Short Courses for
Professional Men and Women, all Organizations,
State & Federal Agencies, Businesses & Specialty Groups
---
You can contact Prof. McLaughlin, by E-mail at: ZenyoKai@gmail.com
---

The HZJK was named one of the oldest leading Internet "Key Resource" sites on JuJitsu.
We were also acknowledged as the oldest Internet Martial Arts Academy Site of any kind.
The HZJK is a pending Hawaii Nonprofit Educational Martial Arts College.
This page is maintained by HZJK Webmaster